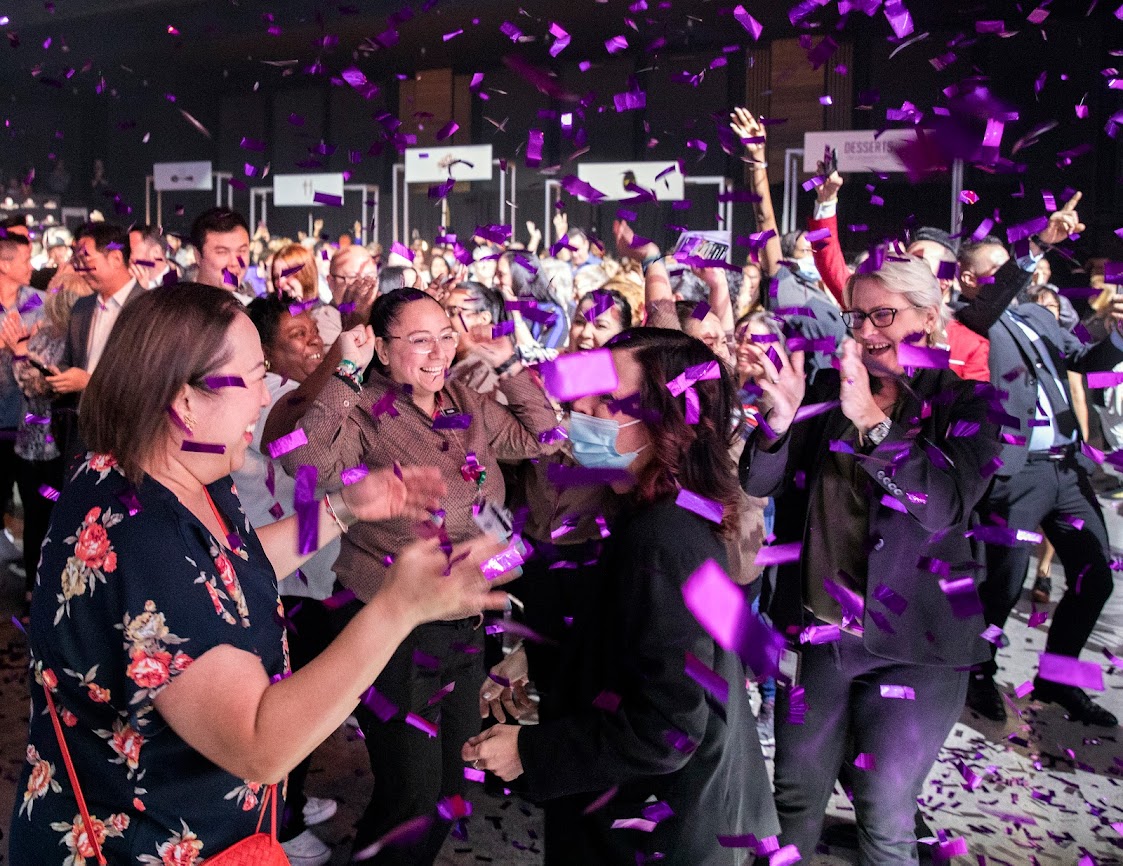 As Cosmopolitan sale nears, Blackstone still has cash in Vegas
Blackstone Group's time as a Strip casino operator is coming to an end, but that doesn't mean the New York-based investment conglomerate is done with Las Vegas.
Through its Blackstone Real Estate Investment Trust (REIT), the company will continue to own the land and buildings associated with four Strip properties operated by MGM Resorts International.
On Wednesday, Blackstone prepared to say goodbye after eight years as operator of the Las Vegas Cosmopolitan, after selling Cosmopolitan operations to MGM Resorts for $1.625 billion.
Blackstone executives held an employee appreciation event inside the Chelsea theatre. In the end, Cosmopolitan CEO Bill McBeath announced that the 5,400 employees would receive a bonus of $5,000 each, an outlay of $27 million by Blackstone.
"Our success was all down to the people in the field, the people who cleaned the rooms, worked in the restaurants, worked the front desk, handed out the cards," Tyler Henritze, head of strategic investments for Blackstone Real Estate Americas, told Reuters. following the loud announcement. "I think it's just a very small way for us to show our appreciation."
Through Blackstone's REIT, the company will retain an 80% interest in the Cosmopolitan's 8.7-acre Strip parcel. Stonepeak Partners and Cherng Family Trust (founders of the Panda Restaurant Group which includes the Panda Express chain), are also part of the ownership group – a deal valued at $4.055 billion.
MGM Resorts will pay an annual rent of $200 million to operate the Cosmopolitan.
McBeath, who will remain with Blackstone but will no longer be the Cosmopolitan's top executive, told employees at the event that MGM CEO Bill Hornbuckle understands the Cosmopolitan "has its own brand and its own culture" and has successful over the past eight years.
"He said the Cosmopolitan should have its own identity," McBeath said.
The Nevada Gaming Control Board recommended approval of MGM Resorts' acquisition of Cosmopolitan operations last week, and the Nevada Gaming Commission will review the transaction at a hearing Thursday in Las Vegas.
Henritze said Blackstone would "buy an asset (Strip) to operate again if the right opportunity arises."
For now, however, Blackstone is focusing on a $6.3 billion purchase from Australian casino developer Crown Resorts, which will see Blackstone become the operator of the country's largest gaming operator.
But Henritze said Blackstone continues to assess the Las Vegas market. UNITE HERE Chairman D. Taylor, speaking at the employee appreciation ceremony, told Blackstone executives he had "suggestions" on which Las Vegas casinos Blackstone should buy, a wink apparent eye to Culinary Union's longstanding labor dispute with Station Casinos.
"Nothing would make me and our team more excited than to be able to bring the group together," Henritze said. "I remain very upbeat and optimistic about Las Vegas and the games. We had an amazing run with the Cosmopolitan here. If we had another opportunity to be back in Vegas operating an asset like this with people like this, we'd be thrilled.
Blackstone paid $1.73 billion for the Cosmopolitan in 2014, spending another $500 million improving the property, renovating all 3,000 hotel rooms and suites, and adding new restaurants and bars. The Cosmopolitan opened in December 2010. The property was the last casino to open on the Strip for 11 years until Resorts World Las Vegas opened last June.
Henritze said that after buying Cosmopolitan, Blackstone focused on becoming an owner.
"Over the past two years, the opportunities for our capital have been more on the real estate side," he said.
In 2019, Blackstone REIT acquired 95% of Bellagio from MGM Resorts, with the casino operator retaining 5% in a joint venture valued at $4.25 billion. MGM pays the joint venture $245 million in annual rent for Bellagio.
In 2020, Blackstone and real estate investment firm MGM Growth Properties purchased MGM Grand Las Vegas and Mandalay Bay for $4.6 billion. Blackstone owns 49.9% of the partnership and MGM Resorts pays $292 million in annual rent to the joint venture.
A few weeks ago, VICI Properties took over MGM Growth's 50.1% stake in the joint venture when it completed its $17.2 billion purchase of the rival REIT.