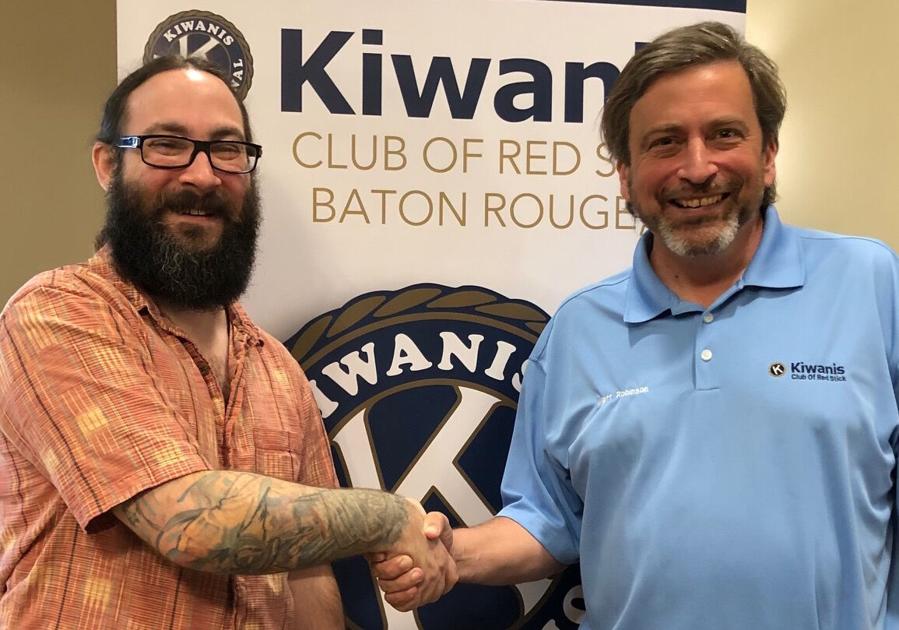 Community: Baton Rouge Poet Laureate talks to Red Stick Kiwanis | Entertainment / Life
Jonathan mayers, recently named Baton Rouge Poet Laureate, spoke about the importance of Creole culture on September 24 at Red Stick's Kiwanis Club in the Piccadilly Cafeteria on South Sherwood Forest Boulevard.
Mayers, a Baton Rouge native recently appointed to the post by Mayor-President Sharon Weston Broome, has deep roots in Creole heritage. His father's family is from Pointe Coupee Parish, New Orleans, and the River Parishes. Visual artist, writer and cultural activist, Mayers has done a tremendous amount of work to research, rediscover, reconnect and recreate the art and language of his Creole ancestors.
Reciting several of his poetic compositions, spoken in Kouri-Vini, the endangered Creole language spoken by his ancestors, Mayers reflected on many of the struggles and issues faced by Creoles and people of color throughout history.
Community: BR Magnet high school student recognized by the College Board
Cortana Kiwanis installs new officers
Incoming Division 8E Lt. Gov. Bridgette hardy installed Tom mackey as President of the Cortana Kiwanis Club of Baton Rouge at the club's 44th Annual Installation Banquet on September 30 at the USS Kidd Veterans Museum.
Also installed were the elected president Brigitte Castine, Vice president Patricia anderson, Treasurer of the Foundation Forrest mills and secretary Heather Folks-Givens. Board members Bob Blanchard, Donna Leggett, Wanda Magee and Greg Scott were also installed.
Outgoing officers are President Rick haddad, Treasurer of the Foundation Kristie daspit and council members Mike Baldwin, Keith McDavid and Rosie Vutera.
The Cortana Kiwanis Club of Baton Rouge supports community projects such as the Cortana Kiwanis Christmas Parade in downtown Baton Rouge, Our Lady of the Lake Children's Hospital, Thanksgiving and Christmas food basket delivery and the Bringing Up Grades program in local elementary schools. The club raises funds for the projects by selling its "world famous" jambalaya.
Community: Nine Angel Award winners announced by Blue Cross Blue Shield
Membership information is available on the Cortana Kiwanis of Baton Rouge Facebook page or by joining the weekly meeting at 7:30 am Thursday at Piccadilly at 3332 S. Sherwood Forest Blvd.
Friendship Force hosts a monthly lunch
The Friendship Force of Baton Rouge monthly luncheon welcoming new friends was held on September 16 at the Byronz Bistro in Willow Grove.
Members discussed a possible trip to Victoria, BC next spring and hosting clubs in Austin, Texas, and Birmingham, Alabama. Carolyn Adams was in charge of the arrangements.
For more information on travel and promoting peace through cultural understanding, visit friendforcebatonrouge.org. Guests are welcome.
Inter-Civic Council meets in Hunan
Members of the Grand Baton Rouge Inter-Civic Council held their monthly meeting on September 21 at the Hunan Chinese Restaurant.
The club started selling tickets for the 80th Annual Golden Deeds Award Banquet co-hosted by ICCGBR and The Advocate honoring Dr Michael Rolfsen scheduled for Tuesday, November 9 at the Baton Rouge Marriott. For more information on the event and tickets, contact Dr. Richard flicker, (225) 931-1626 or [email protected]
The BRHS Class of 1971 organizes its reunion
The 1971 Baton Rouge High School class will hold a 50-year reunion from 7 p.m. to 10 p.m. on Saturday, October 30, at the side porch of Mike Anderson's Seafood Restaurant. Classmates can register online at brhs71.com.
Community: Krewe of Orion Presents Royal Court 2022
Capitol High Class of '70 to host its 50th meeting
Capitol High School Class of 1970 is holding its 50th reunion with several events scheduled for December 18-19. From 2 p.m. to 5 p.m. on Saturday, December 18, a meeting and commemorative celebration (2:30 p.m.) will be held in the cafeteria of Capitol High School. The event will feature food, music and camaraderie.
On Sunday, December 19, a worship service will be held at 8 a.m. at New Home Baptist Church, 3000 Tecumseh Street. The service is casual, with participants invited to wear t-shirts which will be distributed / sold on Saturday evening.
From 7 p.m. to 11 p.m. Sunday, a banquet will be held at Boudreaux's, 2647 Government Street. The event, which requires formal or semi-formal attire, will include dinner, music and camaraderie.
The cost of the meeting is $ 100 per person, with November 15th as the payment deadline. Payments can be sent to CHS Class of 1970, PO Box 1295, Zachary, LA 70791 or Jacqueline Jackson, Treasurer, via CashApp, (225) 747-0917.
Prostate cancer fundraiser to take place on October 14
The Blue Ribbon Night, for the benefit of prostate cancer research and awareness, will be held from 7 p.m. to 10 p.m. on Thursday, October 14 at the Renaissance Hotel, 7000 boul. Tickets for the event, held in memory of Drs. Joel Nasca and Larry Ferachi, $ 100. For tickets and more information, visit blueribbonsoiree.org.
Golf tournament for the benefit of Family Service
Family Service of Greater Baton Rouge is hosting an 8:30 a.m. to 3 p.m. golf tournament on Friday, October 15 at the Copper Mill Golf Course in Zachary. Donations are being taken right now. The event will help support the nonprofit organization's mission of advising and empowering individuals and families by improving their quality of life. The cost of participation is $ 100 per person; $ 400 per team. For more information, send an email to [email protected]