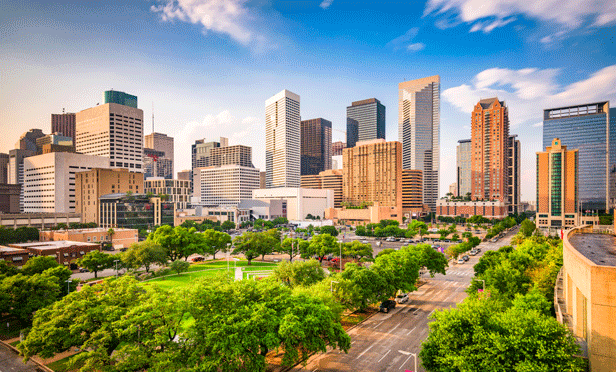 Conversion reconstruction for former ConocoPhillips headquarters
Midway has unveiled plans for the redevelopment of ConocoPhillips' former corporate headquarters campus in Houston into a mixed-use project that will be known as the Watermark District in Woodcreek.
The redevelopment of the 70-acre Energy Corridor complex will focus on repurposing rather than demolishing existing buildings, will include 650,000 square feet of Class A office space, a 100,000 square foot fitness center and multi-family and retail spaces.
According to a statement from Midway, preserving some of the campus infrastructure and office space, while converting existing buildings into multi-family spaces is a strategy designed to reduce the project's overall carbon footprint.
Built in 1978 – with an award-winning design that intentionally resembles a Japanese fishing village – the former oil company headquarters consists of 16 three-story office buildings encompassing 1.3M SF connected by a series of bridges and of ponds, adjacent to the 12.5 kilometers of trails.
Midway purchased the site at I-10 and Eldridge in the Houston Energy Corridor from Howard Hughes Corp. in December for $25 million, representing a loss of approximately $7 million from a previous transaction of the property, which was sold by ConocoPhillips in 2019.
Hughes bought the 1.4 million campus from SF Conoco in a $565 million deal less than a year after it acquired Anadarko for $55 billion. Following the deal, Hughes unloaded three hotels at The Woodlands.
Houston-based Midway, known for developments such as CityCentre in West Houston and East River in Downtown Houston, said at the time of the acquisition that it envisioned "a sustainable environment, connecting and energizing the area through innovative design".
Some of the existing buildings will be transformed into luxury multi-family apartments and a boutique hotel with upscale accommodations suitable for short business trips and extended stays. Construction will begin in the first half of 2023.
When complete, Watermark will offer 650K SF of Class A office space with an abundance of natural light, flexible floor plans, and direct access to surrounding mixed-use amenities. High-end retail and restaurants are also planned on the site.
In a report in the Houston Chronicle last week, Midway said it was in talks with several potential operators for the campus' existing wellness center. Planned upgrades include an Olympic-size swimming pool, basketball court and soccer field.
"At Midway, we are passionate about building remarkable places that endure, and sustainability is at the forefront of our approach," said Brad Freels, CEO of Midway, in a statement. "Watermark is a great example of our forward-looking mindset. This is an urbanization of the suburban experience in one of Houston's fastest growing areas. »