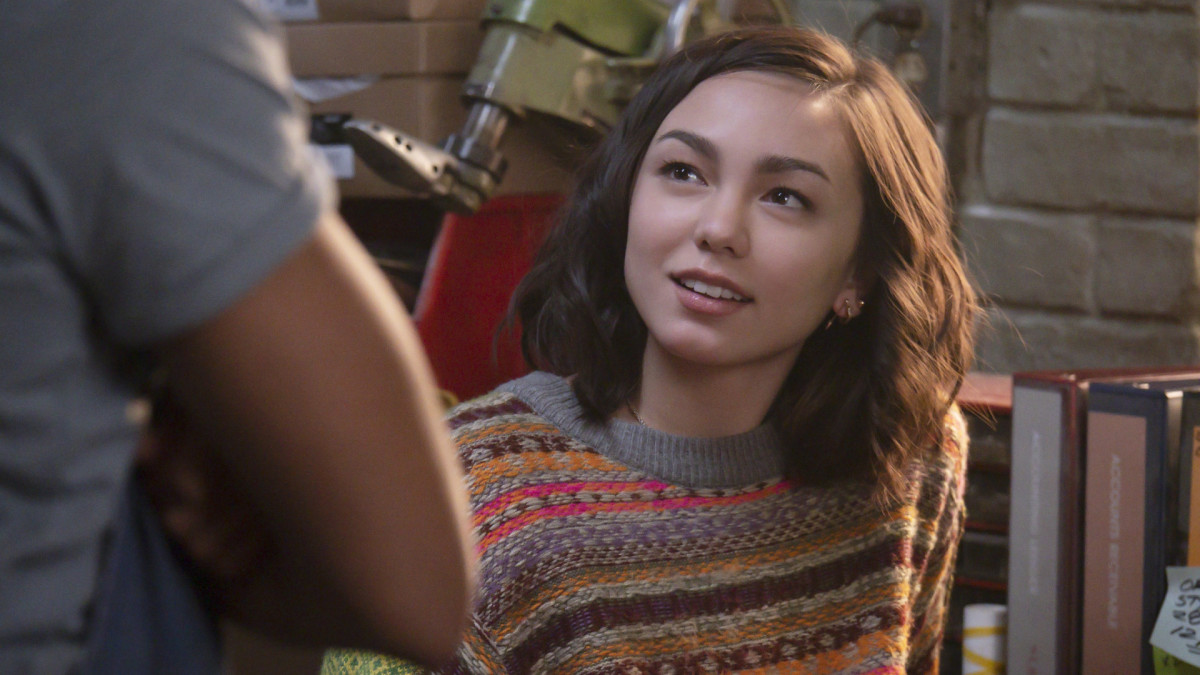 Devyn Nekoda talks sneaker culture and filming in Toronto
The new Disney+ musical Sneakerella is a self-proclaimed "modern take" on the classic Cinderella story, following amateur sneaker designer El (Chosen Jacobs) as he falls in love with basketball legend's daughter Kira (Lexi Underwood). and shoe mogul Darius King (real-life basketball legend John Salley). It's a dynamic and upbeat urban fairy tale set on the streets of Queens, New York.
Of course, Canadian viewers will probably recognize that it's not Queens, New York at all—in fact, in most scenes of Sneakerella, it's Toronto, Hamilton, and other recognizable parts of Ontario, dressed and enhanced by CGI to look like the United States. To add to the Canadian charm, there's also El's best friend, Sami, played by rising Canadian actress Devyn Nekoda. A spunky photographer always by her best friend's side, Sami can sing and dance throughout this cast-forward musical, celebrating sneakers and sneaker culture along the way.
Like Sneakerella arrives on Disney+ this weekend, Complex Canada caught up with Devyn to talk about her Canadian roots, how she landed the role, and her own love of sneakers.
"I often had to remind myself, we are in New York! Not Toronto! »
I see you are from Brantford, Ontario.
I'm from Brantford! I don't like saying that to people. No just kidding. But I actually live a bit outside of Brantford. I went to school there and studied dance at Simcoe. So I have lived all my life in an extremely small town.
Did you migrate to Toronto at some point?
I haven't, actually. I am still at home. When I shot the film, I had an apartment there for three or four months. I spent time living in Los Angeles for a few months. I've done it two years in a row now. I'm all over the place.
A lot is being filmed in Canada these days, which is lucky for actors like you, I'm sure. Do you still think you have to be in Los Angeles to find work?
Yeah, absolutely. The most important thing in this industry is to build connections. I can't work in the United States because I don't have my work visa, but I wanted them to see me in person, see my face. I think that's super important.
You have a background in dance, but I see that you also studied… circus arts?
Alright, wow. You really did your research. I started dancing when I was two years old, and at that time my mom was kind of like, let's put her in everything and see what she does with it. I had a lot of energy. I did dance, gymnastics, t-ball, football. I chose to compete in dance. With circus arts, I took classes for a few years. It was amazing. I was doing flying trapeze and hanging upside down.
Tell me a bit about your involvement in this project. How were you cast in the film?
When I do auditions, usually once I do it's out of sight, out of mind. But this one, I couldn't help but think. I fell in love with the character, Sami. I auditioned maybe in June or July and then I didn't hear anything new so I didn't think I understood. I had a random encore audition while on a road trip with my friends in BC. So I did all my reminders on Zoom in a hotel room. At one point I did it from a campsite. I ended up having to fly home from Vancouver and my friends had to drive my car back to Ontario.
The film is set in New York but, obviously for us, it was shot in Toronto and Hamilton. I think I noticed some scenes that looked like King and University Downtown. How was this experience for you on set?
It was really fun. We were turning down the street and you know how busy downtown Toronto is. We had to change all the street names and everyone who passed by was like, wait, what? In post-production, we added all the real New York elements, so I often had to remind myself, this is New York! Not Toronto!
The film focuses on sneakers and sneakerhead culture. Were you a sneaker person?
Definitively. I wouldn't call myself a sneakerhead, but I love them. With my dance background, it's also a huge element in the dance world. I am working on expanding my collection. One day I will be there.