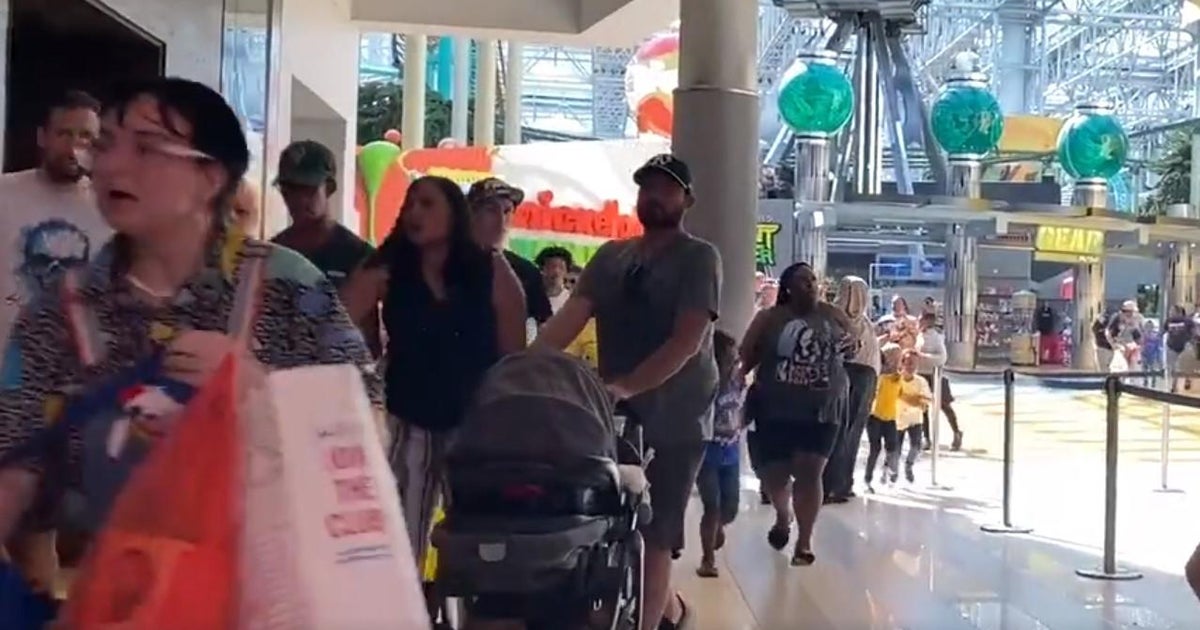 Gunman opens fire inside Mall of America, causing lockdown
BLOOMINGTON, Minn. – Mall of America was jammed for nearly two hours on Thursday after a gunman opened fire inside the huge shopping complex.
Bloomington Police Chief Booker T. Hodges said officers heard gunshots near the Nike store on the second level on the west side of the mall at 4:15 p.m. and were at the scene in the 30 seconds.
Surveillance video shows two groups of young adults having an altercation at the cash register inside the store. One of the groups exits, but a member of that group soon returns and fires three shots inside before fleeing. No injuries were reported.
"Instead of walking away, they decided to show a complete lack of respect for human life. They decided to fire multiple bullets into a store with people," Hodges said. "For those who did this, please surrender. If you choose not to, our partners, our officers, our detectives won't stop until we lock you in."
Hodges says that although there was a shooter, police are looking for two suspects. He says there is no danger to the public at this time.
WCCO spoke to shoppers at the mall who heard the gunshots.
"We were about to walk into the Nike store, and we heard a lot of noise, and then we just looked and heard pop-pop-pop!" said Jodiss Pierre. "You duck…and then you run, but as you run you look back to make sure your family is okay. That's what I did because I was with my family, I had to make sure they were okay, and then we just ran to the nearest exit."
Chicago resident Dr. Sylvia Cruz was visiting the mall while on vacation.
"We heard about four or five shots, a woman screaming, then all of a sudden we saw someone running out, so we ran away and followed the crowd," Cruz said. "It's so sad that you can't even go anywhere because of the fear of what might happen."
There was a heavy police presence for hours outside the Best Western hotel, located across from the mall. Hodges says they thought the suspects fled to the hotel, but they were not found there.
Hodges was candid when reporters pressed on how police and mall security could potentially bolster security.
"If someone decides they don't value human life and they choose to pull out a gun, I don't know what we can do," he said.
Mall of America officials say the lockdown ended at 6:10 p.m. and the mall will be closed for the rest of Thursday evening. It will reopen Friday morning.
While Hodges said his department has no plans to increase security, Mall of America Vice President Dan Jasper said guests can expect to see an increase in security personnel and law enforcement partners.
Asked about videos circulating on social media of people entering the mall following the shooting and amid the lockdown, Jasper said security personnel were unable to lock the incoming doors, and messages from intercom and digital screen alerts were key to the mall. messaging tools in these situations.
He said guns were banned from malls and customers shouldn't expect to see metal detectors installed anytime soon.
"It's an open building, in an open society," he said.
Jasper says the mall has had an incredible safety record in its 30 years of operation, and he feels safe bringing his own grandchildren there.
He says customers who left personal items at the mall during the chaos can pick them up Friday by visiting the customer services desk.
Governor Tim Walz released a statement late Thursday about the shooting, calling the violence "unacceptable."
"These brazen incidents will not be tolerated," Walz said. "We are committed to maintaining an unprecedented police presence in the Twin Cities until we stop this increase in crime."
Police are urging anyone with information about this shooting to call 952-563-4900.
This is the second time shots have been fired at the mall in less than eight months. On New Year's Eve, Kahlil Wiley opened fire in the mall around 5 p.m. and hit two people. He is serving a 45-month prison sentence for the shooting.