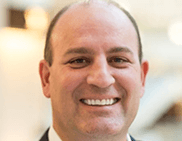 Jim Voth: Digital transformation will continue despite the slowdown
PERSON OF THE WEEK: Will a slowdown in the mortgage market prompt lenders to scale back their technology investments?
Not necessarily, says Jim Voth, managing director of a mortgage advisory firm Falcon Capital Advisorsin a recent interview with MortgageOrb.
Q: Historically, when the mortgage industry enters a down cycle, investments in technology are often put on hold. Do you think that will be the case this time around? Or will the movement towards digital transformation continue unabated this year?
Yours: That's certainly conventional wisdom, but this cycle could be different. On the one hand, there's a lot of momentum behind digital loans, and the value proposition is compelling. Digital lending and e-closing, for example, can boost operational efficiency and help offset some of the margin pressure that mortgage companies face.
Creating e-notes speeds delivery to the secondary market, which is why more and more investors are accepting e-notes, including aggregators like Wells and PennyMac. Fannie Mae and Freddie Mac also have self-certification which cuts document certification time to next to nothing and speeds up funding.
There's also the issue of competitive parity: the biggest lenders in the country are all in on digital lending and improving the borrower's experience at closings. The next tier of lenders needs to go digital to stay in the game.
The transition to digital is no longer as cumbersome as it was a few years ago. Proven closing technology is integrated into leading lending platforms and industry utilities, such as the MERS e-Register. The settlement services community, for the most part, is also aware of hybrid and even full electronic fences. So much of the friction has been removed.
To reverse the scenario, you could argue that the slowdown in refinancing could accelerate digital transformation. This is because lenders will have the bandwidth to undertake and complete these projects. A bottleneck that slowed progress last year, for example, was the move to the new URLA form, which pushed many projects further down the IT department queue. And that's behind us now.
Q: What are some of the operational benefits that lenders (and others) could quickly realize by making discrete or end-to-end digital engagements?
Yours: Obviously, the more digital you are, the more value you will realize. But not all lenders need to be fully digital from day one. There is incremental value at every step of the transformation process. Hybrid closures, for example, are more efficient in most cases than traditional closures and improve the customer experience. They are often a good intermediate step before full electronic fences.
Electronic notes, as mentioned, are now accepted by GSEs and Ginnie Mae, as well as private investors. The numbers are still relatively low as a percentage of all mortgages, but they are growing rapidly. The industry is starting to realize how much faster you can move and sell these electronic assets. For example, if you can move an electronic note from a warehouse line in days rather than weeks, it significantly reduces short-term borrowing costs.
So, to recap, end-to-end solutions are totally doable and can produce real bottom line results, but they can often be done in stages.
Q: Everyone has always agreed that in principle, digital lending is the future. But exact numbers on return on investment have always been hard to come by. Does it change?
Yours: Getting solid numbers on return on investment (ROI) has been a challenge. Recently, however, two new ROI studies have been published. The first study, commissioned by Notarize, found that a full electronic close saves lenders about $444 per loan and settlement agents up to nearly $100 per loan. This was based on an analysis of time savings, fewer defects and direct costs of printing and mailing.
The average time saved on a hybrid fence was 99 minutes; 157 minutes for an electronic close. Nearly 90% of respondents said they could do more loans with the same or fewer staff.
Similarly, ICE Technology released a ROI survey that showed its hybrid electronic closing solution saves 70 minutes per loan and reduces overall cycle time by 2-3 days. Together, these two savings add up to a saving of $134 per loan. A fully digital fence, according to the study, could save up to $500 per loan.
We'd say the ROI might even be higher because the surveys didn't really address some of the secondary marketing benefits downstream, like fewer days on warehouse lines using eNotes.
Q: Are there financial advantages to hiring a consultant for a transformation rather than doing everything in-house or using turnkey vendors?
Yours: It's our job, so it's a bit difficult not to be biased. What we've seen in the marketplace, however, is that the success of implementing a comprehensive e-mortgage program is determined by more than just buying the right technology. There are impacts to your people, your processes, your technology, and your policies and procedures that are critical to getting it right, both from an internal operations perspective and from an external adoption perspective. A company like ours, for example, can help clients assess their digital readiness and then develop a roadmap for their journey, including identifying the operational changes that will be required.
The benefits of working with an advisor are even more pronounced for complex engagements: for example, multi-channel digital loans or end-to-end integrations to get straight-through processing.
A good consultant will have expertise in e-mortgage business transformation, experience working with leading e-mortgage technology companies, and be an agnostic party in the vendor selection process.
Our team has worked on the client side of the mortgage industry at major banks, selling investors and industry standard organizations. So, in addition to knowing the strengths and limitations of vendors and solutions, we have a deep understanding of business and compliance requirements. necessary for implementation.