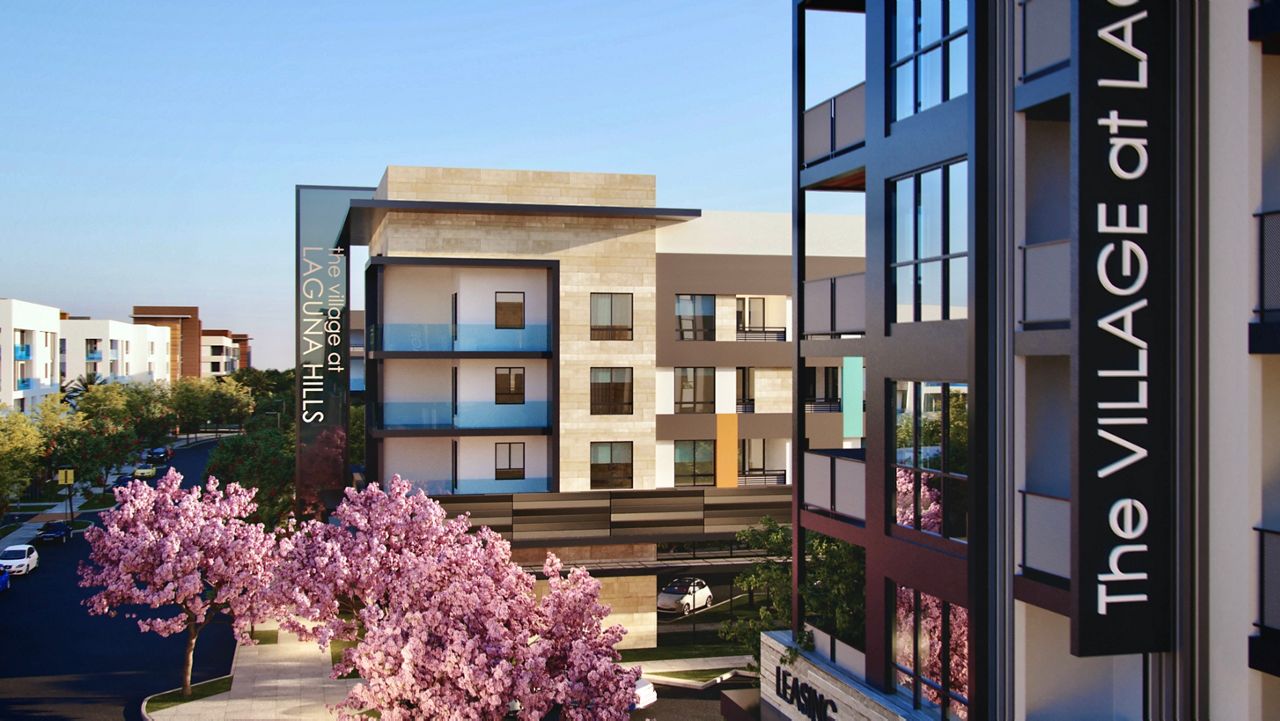 Laguna Hills Mall is gearing up for a mixed-use makeover
LAGUNA HILLS, Calif. – Laguna Hills Mall is ready for its long-awaited makeover.
After the Laguna Hills City Council approved Merlone Geier Partner's new plans to turn the mall into a mixed-use destination, the developer said it hopes to innovate within a year.
"If everything falls into place, we will start demolition in six to 12 months," Stephen Logan, vice president of development at Merlone Geier, told Spectrum News.
Laguna Hills Mall, once a popular shopping destination, is an aging feature seen from the El Toro Road exit on the I-5 freeway toward southern Orange County. The mall's upcoming transformation is part of a larger trend by developers to turn vacant malls into new mixed-use havens.
When Merlone Geier bought the struggling Laguna Hills shopping center from Simon Property Group in 2013 for $110 million, the developer had big plans to revitalize the mall originally built in 1973.
But a combination of changing consumer shopping habits, the proliferation of online shopping and the bankruptcy of some big-box retailers in the mall forced Merlone Geier to change his plans.
In 2016, the city initially approved Merlone Geier's redevelopment plans called Five Lagunas, which included a new movie theater, luxury apartments, outdoor space, and a six-story parking structure.
However, the developer went back to the drawing board when Macy's and JCPenney closed due to the retail apocalypse that hit many traditional big box stores before the coronavirus pandemic.
The interior of the mall closed in 2018. Only the fast-casual restaurants outside the perimeter of the mall are still open.
Merlone Geier's new plan, called Village at Laguna Hills, is to turn the 68-acre property into a mixed-use destination, including up to 465,000 square feet of office space, a 100-150 room hotel, 1,500 apartments residential and retail. and outdoor space. The company plans to set aside some of the apartments for affordable housing.
"Most of the mall is going to be torn down," Logan said.
Logan said only Nordstrom Rack, King's Fishhouse, BJ's Restaurant and In-N-Out would remain.
"They are long-term players in our development," he said.
He said the goal is to have a hotel, retail and at least two apartments on site within five years. Logan declined to share how deep Merlone Geier plans to sink into the redevelopment project.
Due to the impact of the pandemic on the office market, the developer is not yet fully invested in building the office component of the site, Logan said.
"We know there's a demand for office space, especially in the entertainment and life sciences industries," he said. "We think the office market is strong and employers want to be along I-5 and have access to talent. The office market will rebound. Maybe it will be a different market in the future , but people still want to go to the office and interact with people."
Merlone Geier's redevelopment plan with Laguna Hills Mall is part of a larger trend of redevelopment of former malls into mixed-use properties.
In the mid-2000s, the former Huntington Center mall in Huntington Beach morphed into what is now Bella Terra.
Texas-based Centennial Real Estate is investing half a billion dollars in the redevelopment of Santa Ana's MainPlace mall.
The City of Westminster plans to redevelop its aging Westminster Mall.
Logan said people these days want to be in a live, work and play environment.
"People don't want to drive 45 minutes to get to their destination," he said. "They want to be close to where they work and spend their days."
He said the Village of Laguna Hills would give that to the people of Laguna Hills and the surrounding area.
"This is one of the most unique mixed-use developments Southern Orange County has ever seen," he said. "Back when the mall was built, it was a destination…We're not a mall anymore. We're a type of destination location with all types of aspects included in one place ."