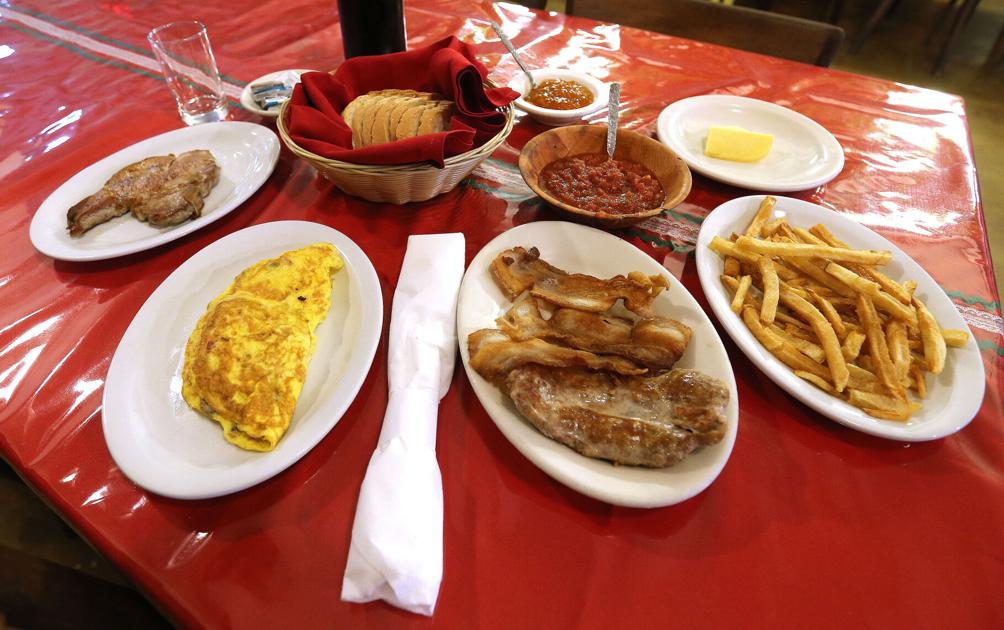 LE PLAT: Noreiga's new ambitions to nurture traditions | Food
There is a classic recipe for making an exceptional restaurant. You start with great food, throw in the mood, sprinkle with good service and a pinch of passion.
When Hotel Noreiga, the award-winning James Beard restaurant that set the bar for Kern's tradition of Basque cuisine, closed last year, many diners were disheartened. Losing a piece of culinary history will do that to people.
From the struggle of a pandemic year, new hope has emerged. Restaurateurs Bill and Koie Osathanukhro, who also own Glitz Cafe, Happy Wings, and KK's Cafe, purchased the Noriega hotel name and liquor license, along with the tables, chairs, plates, and much of the memories, to carry on the tradition, albeit in a different location, which began in 1893.
Now open at 4809 Stockdale Highway (in the former home of Café Med), Noriega's is busy serving three meals a day six days a week with all the Basque dishes diners love, thanks to Chef Gilbert, who came from here. original restaurant (and, like other celebrities, prefers to wear only his first name).
"I want people to experience Noriega," Koie Osathanukhro said. "I don't want people to try to compare but to have fun and experience it."
There is a certain familiarity, starting with the dining room with the long tables set for family meals.
Robert Wallace, a longtime guest at Old Town Kern, was excited about what he saw coming in for breakfast on Tuesday. A retired carpenter who now drives a bus for the Bakersfield City school district, Wallace carried on his own tradition. Just as his boss had brought him to Hotel Noreiga for lunch from the 1970s, he brought his colleague and friend from BCSD, Brian Machuca, to the new restaurant to enjoy a Basque-style meal.
"I brought him here to experience this, to experience the food," Wallace said.
"I don't know what to expect," Machuca said. "He just brought me here.
Luckily for Machuca, the meal followed the traditional breakfast range of Basque sausages, homemade bacon, Pyrenees Bakery bread, apricot jam, salsa, slices of Jack cheese, and wine on the table. (The duo opted for tall glasses of iced tea.) The meal also included a pork chop, one of the lunch specials that day, and a choice of fried eggs or an omelet.
"Did you have an omelet?" Wallace asked his friend, who ordered after him. "It's a good choice."
The gregarious retiree enjoyed joking with waiter Jillian Ashbaugh, who helped explain the setup to Machuca.
(Those wondering about lunch and dinner entrees should rest assured that favorites like garlic fried chicken, oxtail stew, leg of lamb, and prime rib are on the menu. menu, as well as occasional specials including lamb shank, chili verde, and paella, which was served on Father's Day.)
Wallace said the Basque dining experience is all about the food and the staff.
"The employees there made the atmosphere much more than a restaurant," he said of the original restaurant.
The team behind the new Noreiga aims to make customers feel welcome. Osathanukhro said family style catering is an important tradition to continue.
"You don't know each other, but you can sit together and talk," she said, recalling a special birthday dinner at the Noriega Hotel. She said that when they went to pay, they learned that their dinner mates, whom they had just met, had paid for their meal.
Open for less than a month, the restaurant has already had a lot of paying customers who covered meals and drinks, Osathanukhro said. This generosity and this human bond is something that the restaurateur is happy to promote.
"And after COVID, don't we all need this?" said general manager Krystal Allison.
Many with fond memories of the Noreiga Hotel came to share stories and expressed their enthusiasm for the new venture, Osathanukhro said, noting that a guest pointed out his great-grandmother in an old photo on display .
The restaurant is filled with memorabilia from the original location. The cash register, poker cards and chips, an original menu and bottles of alcohol are on display near the entrance. Reprints of old photographs of Hotel Noreiga, including from when it was Hotel Iberia, are framed throughout the building along with a worn leather apron, framed next to a photo of where it once hung next to a sink. (The bar and the original neon sign are on display at the Kern County Museum.)
Allison said work continues to create the right atmosphere.
"I don't know if Koie will ever be done," she joked. "Last weekend was spent finishing the front fountain."
In the quieter early hours, Allison said she had a makeshift desk in the bar, which she liked to be on the floor.
Coming from 1933, she said she was excited to help develop an existing brand.
"I was really interested in the challenge. It's about honoring the old heritage while helping the new owners become their own. "
If Wallace and Machuca, who left satisfied after a hearty breakfast, are any indication, Bakersfield will welcome this new Basque variant.
"I hope they will be successful," Wallace said. "He doesn't have the building, but it's in an area with easier access."
Customers who remember the time of the location as Cafe Med and are happy to have a thriving place in their neighborhood again, and others are delighted that Noreiga continues to live on, Allison said.
"When they walk in they are delighted the food tastes like they remember. They give us a fair chance. Change is difficult… but we can feel the connection between Noriega and the customer."
Noriega's is open Tuesday through Sunday, serving breakfast from 7 a.m. to 10 a.m. and lunch from 10 a.m. to 2 p.m. Dinners are served at 6 p.m. and 8 p.m. on Fridays and Saturdays and at 6 p.m. only the rest of the week.
Reservations for dinner are strongly encouraged; call 885-8515 to reserve. For more information, visit his Facebook page (facebook.com/noriegasbasque).
Stefani Dias can be reached at 661-395-7488. Follow her on Twitter at @realstefanidias.