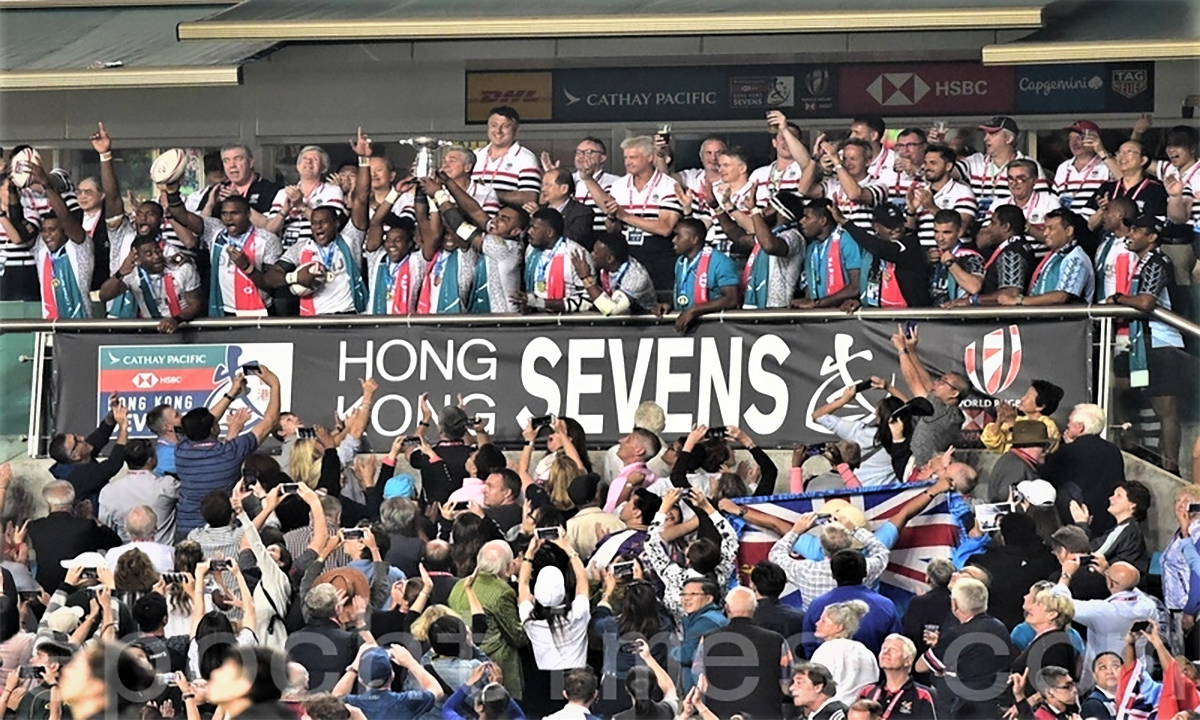 Players must return to the hotel by shuttle after games
The Hong Kong Rugby Union (HKRU) announced on its website on July 30 that the "Cathay Pacific/HSBC Hong Kong Sevens" rugby tournament has been approved by the Hong Kong government and will be held at the Hong Kong Stadium from November 4 to 6, 2022. This will be the first round of the 2023 HSBC World Rugby Sevens Series.
Due to the Hong Kong government's COVID-19 social distancing measures, many major sporting events have been postponed or canceled in Hong Kong for over two years.
The Hong Kong Sevens has been suspended for over three years.
Kevin Yeung Yun-hung, Hong Kong's culture, sports and tourism secretary, stressed that the "closed-loop system" will be used to transport players between hotels and venues. He also mentioned that "athletes don't come to Hong Kong to get drunk."
The Hong Kong Sevens has always been one of the major sporting events in Hong Kong to attract international tourists and establish Hong Kong's image in the tourism industry.
However, since it was held from April 5-7, 2019, it has been postponed several times due to the COVID-19 outbreak.
According to various media, the government is determined to prioritize the reopening of borders to international tourists. The government also sees the Global Financial Leaders Investment Summit and Hong Kong Seven to be held in November as an opportunity to showcase "the global city of Hong Kong" to the rest of the world.
The government also said it would "succeed without fail" and described it as a "deadline" for opening up Hong Kong to the international community.
Hong Kong entry restrictions are to be relaxed by then.
HKRU said that since the tournament is only three months away, they will be liaising with all stakeholders starting this week, announcing further details of the event, including ticketing information, shortly.
HKRU President Patrick Donovan said he was confident Hong Kong Sevens would be a very successful event as before.
He also admitted that the event had not taken place for three and a half years and that they had encountered many difficulties at the initial stage. However, he was convinced that it would be an extraordinary event: "I am delighted to be able to say once again to the world: see you soon at the Sevens! »
In an interview with Commercial Radio Hong Kong, Kevin Yeung described the Hong Kong Sevens as a hallmark Hong Kong event.
He added, "Perhaps the general public has misunderstood the tournament as a 'carnival', thinking that players come to Hong Kong to drink and their daily routines are irregular."
Therefore, the Hong Kong Sevens due to resume this year will take place in a "closed-loop system".
The government will shuttle players between hotels and the stadium and hopes the local sports industry will continue to develop professionally and gradually.
HKRU revealed in 2021 that due to the impact of the pandemic, the union suffered a loss of HK$200 million (about US$25 million), nearly depleting the union's reserves.
To ensure HKRU's operations until Hong Kong Sevens resumes in November, HKRU needs to save HK$30 million (US$3.8 million) in operating costs in the coming fiscal year. and further cut expenses, including laying off all 12 full-time staff and reducing the salaries of other staff. HKRU also immediately reduced the size of the office, grants to smaller rugby clubs and suspended rugby lessons.
According to the World Series website, Hong Kong is scheduled for a return leg of the 2023 series, from March 31 to April 2.
The 2023 HSBC World Rugby Sevens Series is set to take place over 11 legs, starting with the Hong Kong Sevens on November 4-6, 2022 and ending in London on May 20-21, 2023.
Due to COVID restrictions, the 2022 series has been rather restricted and new rules have been introduced to account for the unusual situation. Taking these rules into account, South Africa won the series, followed by Australia, Argentina and Fiji. The United States finished in sixth place ahead of England, France and New Zealand (New Zealand only played in four tournaments).