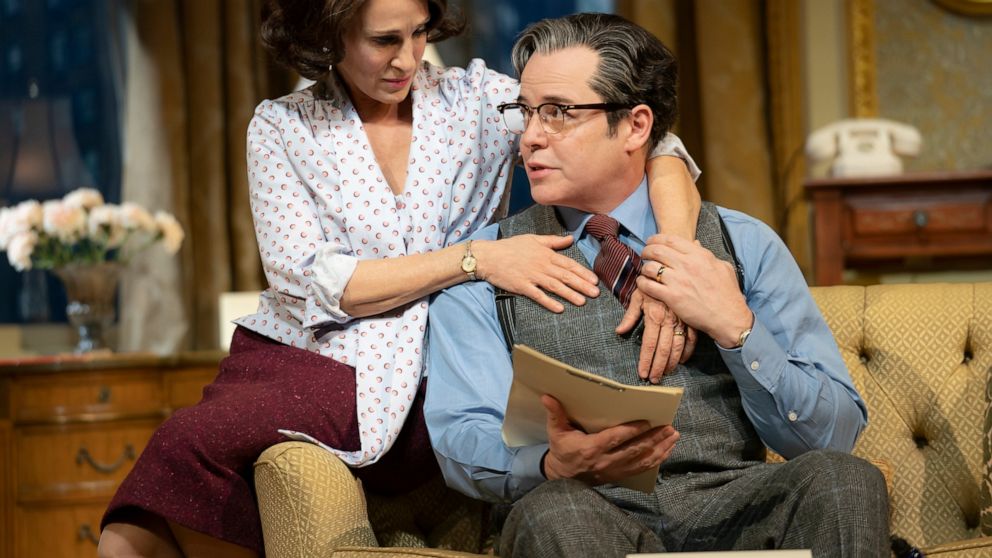 Review: Matthew Broderick and SJP team up on Broadway
The decor of Neil Simon's "Plaza Suite" is threatened from the start of the play, when we are told that the famous hotel is facing the wrecking ball: "Today, it has to be new
NEW YORK – The very framework of Neil Simon's "Plaza Suite" is threatened, from the opening scene.
The mighty Plaza Hotel, an elegant castle overlooking Central Park, has a date with the wrecking ball. "Today, it has to be new. The old is no longer good," we are told.
It could also fit Simon's 1968 comedy-drama. A revival that opened Monday at the Hudson Theater showed its age, with more than a few worn parts.
Even Matthew Broderick and Sarah Jessica Parker's star-studded union — giving the storytelling trio a little extra electricity since they are, in fact, married — couldn't hide its infirmities.
Essentially, "Plaza Suite" is made up of three one-act plays, all of which take place in Suite 719 on different nights. There's a long-married couple whose relationship may not last overnight, two former high school sweethearts rekindling their romance, and the parents of a reluctant bride, who barricaded herself in the bathroom on the day of his wedding.
The Broadway revival directed by John Benjamin Hickey moves from sad to funny to farcical, with Broderick and Parker increasingly physical on that continuum, from bland and mannered start to vaudeville-esque ending.
Simon's mind is delicious and wild as the first couple surround each other, slowly verbally scratching each other. "You live with one person all your life, you don't really know them," explains the 23-year-old husband, Broderick playing him unofficial, primitive, conceited and self-contained, somewhat robotic.
Parker taps into her physical comedy in the second tale, playing a star-struck, girlish housewife hiding her misfortune and domestic regrets, which she lets out between the belts of several vodka darts as she practically bounces off the walls.
In this one, Broderick plays a dashing Hollywood producer who seems to be channeling Austin Powers. He is determined to seduce his former flame without really seeing her: "You are the only lonely, true, honest and not fake woman I have been with since the day I arrived in Hollywood 17 years ago."
Then, in part three, Broderick and Parker get completely slapstick as the bride's parents, like an episode of "I Love Lucy." Clothes are torn, pigeons attack, eerie voices are employed, Harold Lloyd stunts are attempted, and actors slip and bounce like coils of steel. They went too far, almost assaulting the audience.
Broderick threatens to knock the tray over as he slams the bathroom door to reach his daughter: 'Now is not the time for second thoughts. It costs me $8,000 for the first thoughts! »
Aside from the odd dated reference – Dr. Joyce Brothers, hello? — and some unfortunate reminders of our present day — like those mighty Hollywood producers using hotel rooms for seduction isn't much fun anymore — "Plaza Suite" is definitely over 50 years old.
It's stuck in the mid-twentieth century with its privileged elites, offering pre-feminist musings on midlife crises and elusive marital bliss, all on double room service scotch. It's staged for the very people who feel the need to burst into applause when they first see John Lee Beatty's beautiful Plaza decor, complete with timelessly elegant chandeliers, sconces and chairs. .
They know they will be cared for gently here, like guests of a stuffy, overpriced hotel living off its enduring legacy. Not disputed or stretched. It's an elegant past, yes, but it's time for the new. Today it must be new.
———
Mark Kennedy is at http://twitter.com/KennedyTwits