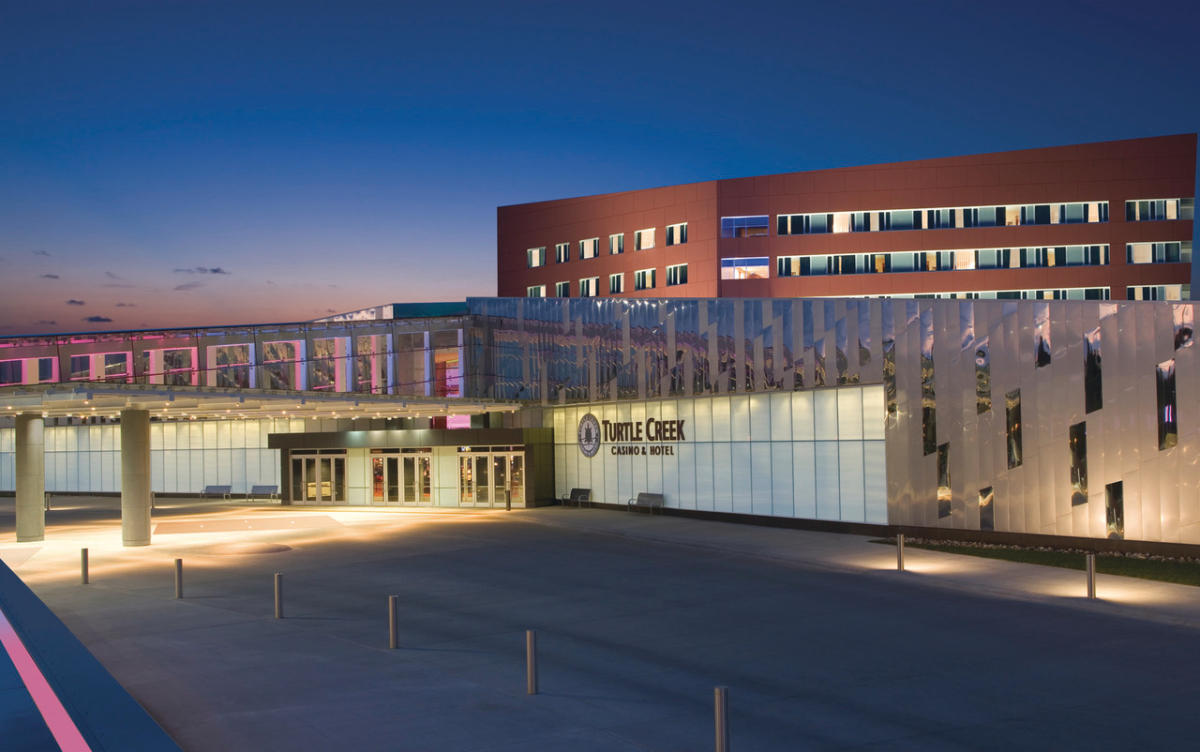 The Game Room Scoop | Features
What's New at Local Northern Casinos
By Al-Parker | September 3, 2022
Game time doesn't just happen on the court…it also happens at the poker tables and slot machines. We asked northern gaming experts what's new at their properties, what's changed over the past few years, what to expect this fall, and how they're connecting with the community by supporting organizations non-profit or other charitable activities. Bottom Line: Between major renovations and hot new games, Northern Michigan casinos are on the rise.
Turtle Creek Hotel and Casino | Williamsburg
What's new: The big buzz at Turtle Creek this fall isn't at the casino, but at the adjoining hotel.
"We are thrilled to offer our guests a brand new hotel this fall, with a new lobby design and a complete update to all 137 guest rooms and suites," said General Manager Johnny Barrientoz.
The renovation, which combines understated luxury with modern amenities and interiors with Native American accents, has begun and is expected to be complete in mid-November. "In the meantime, we're directing our guests to our sister property, Grand Traverse Resort and Spa, a five-minute shuttle ride away," adds Barrientoz.
What changed: Following COVID-19 masking mandates, the casino became smoke-free and continued this policy at the request of customers. "We have also realigned our sports betting with Caesar's Sportsbooks, which has been well received by our players," says Barrientoz.
What is happening: "We added over $145,000 in cash and prizes during our weekend Hammers, Hard Hats and Cash promotions from September 9-25, including top prizes of $5,000 and $10,000 every Friday and Saturday nights and $100 Mobil Gas Card draws on Sunday afternoons. », explains Barrientoz. "We are also giving away 30 Mobil Gas Cards from $100 to $300 on September 28 during Full Tank Frenzy."
What matters: The casino's "Cash In On Kindness" guest change collection has raised more than $100,000 for more than 25 area nonprofits. "The program, which began in the wake of the nationwide coin shortage, offers guests the opportunity to collectively donate their change to make a change locally," says Barrientoz. "It has continued to be a hit every month for the past two and a half years."
Leelanau Sands Casino | Peshawbestown
What's new: "We are always adding new games to our customers' favorites to keep the excitement going, and the new IGT Prosperity Link bank with tiered progressive machines has been popular with our customers, as well as our weekly restore and refresh features. bingo," says the general. Director Jesse Ward.
What changed: Like Turtle Creek, casino officials chose to promote a healthier experience early in the pandemic, instituting a smoke-free environment and continuing based on customer preferences.
What is happening: This month, the casino will be offering over $30,000 in cash and Leelanau Loot prizes every Sunday afternoon, with players winning between $300 and $3,000 in cash draws. Each winner will also receive a pizza chef prize package worth over $75.
"We've also added a 'Halfway St. Patrick's Day' prize patrol where 17 players win $300 each," says Ward. "And [we'll have] cash draws at our Michigan Native American Celebration on September 23rd. Our Fall Euchre tournament is scheduled for November 5, which is a local favorite.
What matters: "In honor of US National Bald Eagle Day, we were able to make a donation to the Skegemog Raptor Center for the protection and preservation of the migizii. [eagle in Anishinaabek] to encourage not only survival, but also prosperity in our region," says Ward. "In Aboriginal culture, the eagle is one of our most revered and respected beings in creation. It is the bearer and messenger of the Anishinaabe people who connects our prayers to the Creator. It was truly an honor to help them in their efforts.
Odawa Casino | Petoskey
What is happening: Tribute artist Lisa McClowry's performance of the pop goddess, "The Beat Goes On," is scheduled for September 16.
The Odawa poker room also attracts a lot of action during its monthly poker tournament which is held on the third Sunday of each month (September 18). It is one of the few remaining live poker rooms in Northern Michigan and attracts players from all over the region.
What matters: Odawa Casino partnered with Toys for Tots last year to create a special holiday season for children and families in need. With a poker tournament and the Spare Change program underway, the casino was able to provide nearly $4,000, plus more freebies than ever before.
Little River Casino Resort | Manistee
What's new: After opening in 1999 with 600 slot machines, Little River has grown steadily and now offers nearly 1,000 slot machines and video poker games. New games are added regularly, including the exciting All Aboard, Mayan Chief and China Shores.
With college football and the NFL kicking off their seasons, customers can now do more than just watch their favorite teams at the River Rock Sportsbook & Grill: they can bet on them. With betting windows in the restaurant and 12 new 24-hour kiosks in the restaurant and game room, you can bet on everything from football, baseball and basketball to hockey, tennis and basketball. golf.
What is happening: On September 17, the casino will welcome comedian-actor-singer and writer Rodney Carrington. REO Speedwagon will perform in the casino's 1,600-seat showroom on October 15.