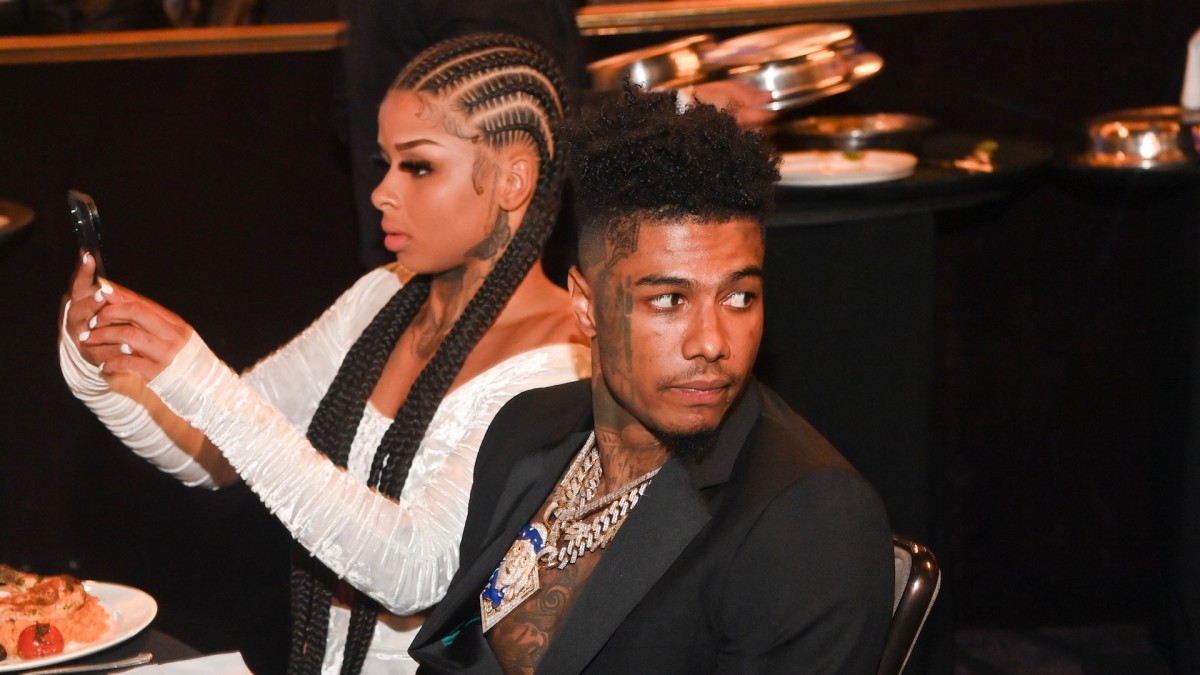 Video appears to show Blueface fighting Chrisean Rock's father
It looks like Blueface and Chrisean Rock can't escape the drama.
Weeks after the pair were involved in a physical altercation, a newly emerged video appears to show the "Thotiana" rapper fighting Chrisean's father. The surveillance footage, posted by TMZ, was captured Friday night when the couple met Chrisean's family. The outlet reports that the parties gathered around 6:30 p.m. outside the Four Seasons hotel in Baltimore and began having a tense conversation.
It is unclear what exactly the parties were discussing; however, the video appears to show a man – presumably Chrisean's father – punching Blueface without warning. The rapper stumbles backwards and begins throwing hands before other onlookers get involved; however, moments later the initial attacker is seen walking away before Blueface comes from behind and knocks him out.
Chrisean confirmed the altercation via Instagram, writing, "So my boyfriend knocked my dad out. My family business didn't go well, I don't even know what's going on.
Blueface also addressed the incident on social media: "I'm her daddy now," he wrote, along with a crying and laughing emoji.
Chrisean eventually returned to Twitter to defend Blueface's actions. She claimed that her father had been absent for many years and was also abusive towards her mother.
"The same daddy [that] got knocked out was the same guy who tied my mom up in the woods just to beat her because she screamed so loud in the house when he beat her in front of us," she wrote in a deleted tweet from. "So he went out of his way to damage my whole family, that same father I met when I was seven. Someone was supposed to knock out n***a a long time ago.
Baltimore police say TMZ officers arrived at the scene for disorderly conduct and assault. It appears that no charges have been filed.
The incident comes more than a month after a viral video showed a physical altercation between Blueface and Chrisean. A few weeks later, Chrisean was reportedly arrested for allegedly punching Blueface in Arizona.